How to Find Us / Location
McNeely Skin & Body is based within the beautiful Georgian home of The Vinery Hair Salon, a short walk from Huddersfield Town centre
McNeely Skin & Body
The Vinery (Bents House) 21 Belmont Street
Huddersfield
West Yorkshire
HD1 5BZ
Tel:
07853192108
Bents House & The Vinery
It is believed that Bents House was built by Thomas Ibbetson circa 1820's. According to historic documents and census, the Ibbetson family experienced the Reign of King George IV, King William IV & witnessed the coronation of Queen Victoria whilst living at Bents House.
In 1880, owner occupier Charles Wood Esquire developed the property further by building an imposing Victorian greenhouse to the rear of the existing saddlery. Over the years it became well known for producing fine grapes and fruits from the garden orchard.
Sadly, with the passing of time, the property fell into a poor state of disrepair. Until local businessmen and Property Developers Alan Whyke and Michael Walker renovated the buildings and magnificent town centre garden in order to provide a fine period backdrop for the ultimate in hair & beauty salon experience.
Bents House and The Vinery hosts some of the regions top hair and beauty professionals, with a combination of skills and experience to cater for your every need.
Every effort has been made to embrace the rich history of the buildings and harmonise that with the quality and range of services available. We believe that like a fine wine, Bents House and The Vinery just get better with age.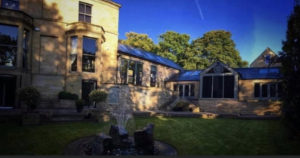 Parking
There is a large car park just off Cambridge road that is situated in front of The Vinery Hair salon. (Please see map) A small charge is payable via the machines although parking is currently free until Christmas.  On street parking is limited and restricted to one hour. Please be aware there are also some permit restrictions in place.